Bundle Beds has always been about helping you say yes to everyday adventures. We want to get more people out enjoying camping. We LOVE it, and we want to make it as easy as possible for to you get out camping with your Bundle Beds, and fall in love with it too. 
With that in mind, we've been in touch with our friends at Cool Camping to recommend 6 of their new discoveries and brand new campsite openings for families, with availability this Summer...
Pitch a tent at Cuckoo Fen Campsite and you've a good chance of spotting marsh harriers soaring high overhead. 
It's all been put together by Tim and Emma, who live on site for the duration of their summer holiday season. As committed campers themselves, they know what makes a good campsite and have got this one just right for the kind of campers who like to pitch their own tents, light their own campfires and make their own entertainment. There's no playground for the kids but there is a stack of hay bales; no music allowed but the sound of the wind in the trees of the small on-site woodland.
On the edge of the High Weald, three miles from Rye, the Otter Channel is a great escape for those looking to step away from their phone and enjoy the wonder of wildlife. 
The site feels as natural as its setting: Campfires are allowed, there's a shop inside a horsebox and adventurous campers can try the three 'Hot Bucket' showers. Bathing under the stars with water you've boiled on the campfire is an experience to remember and, if you're brave enough to rise to the challenge, you get to wear it like a badge of honour for the rest of the trip.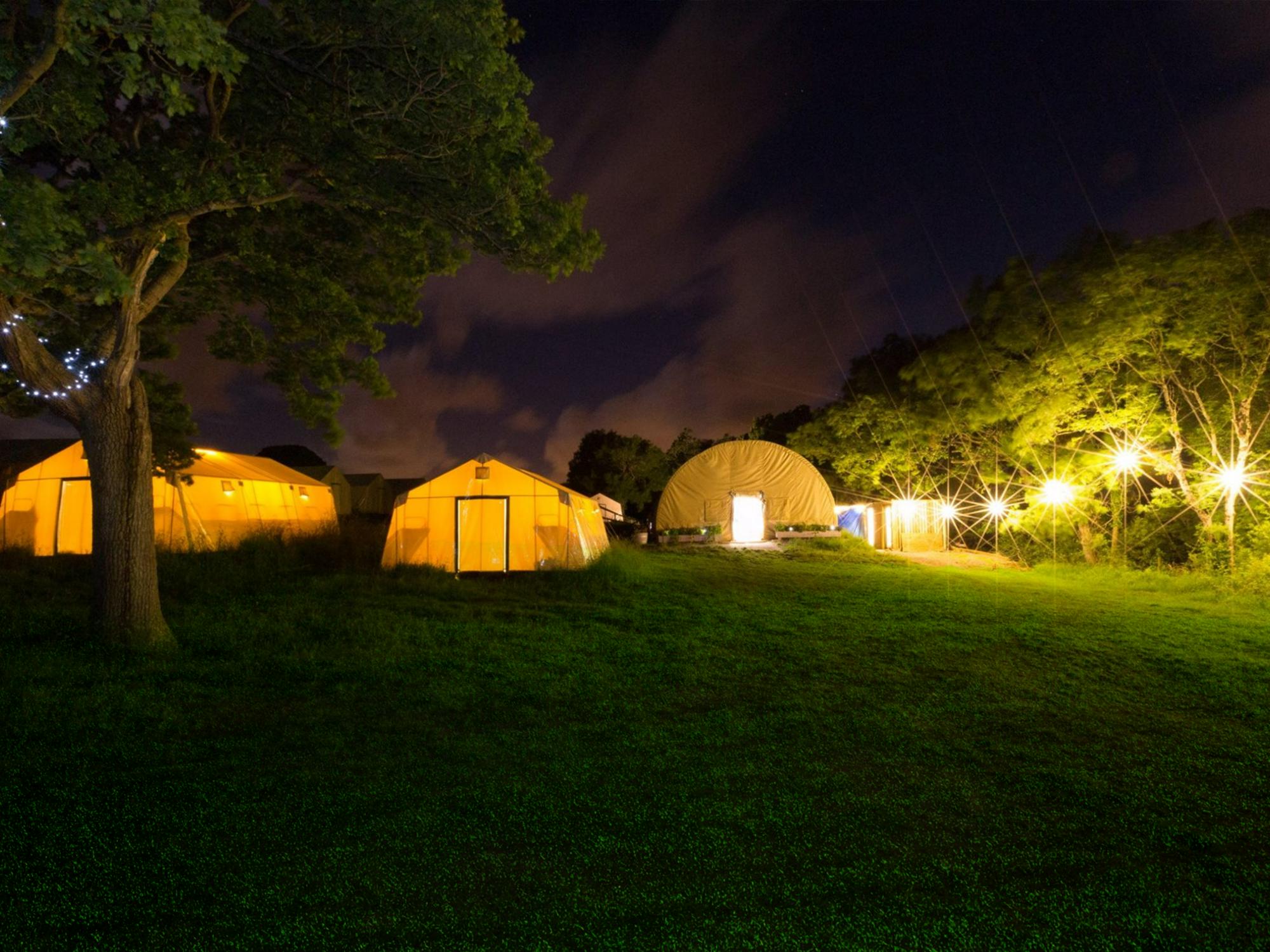 As the name suggests, Mendip Basecamp is the ideal base for adventurous campers looking to explore the Mendip Hills. But, to be honest, it's also a real attraction in its own right, t
he campsite is so full of activities that you may never want to leave!
The style is pleasantly relaxed; there are no specified pitches, just choose a place to pop your tent and settle in (the field is massive, so there are loads of options). The open, relatively flat space is wonderfully sociable in the hight of summer, with kids making friends and parents relaxing by their tents, and the high surrounding trees give good shelter from the cool night breezes of summer. Campfires are allowed, too; their hazy smoke adding the essential scent of camping to the scene.
And for more Glamping focused sites...
In warm, sunny weather, under Norfolk's big skies, this place is simply blissful; tranquil, secluded and serenaded by skylarks. If it's too hot or too wet, there's space for supper (both cooking and eating) in the communal, lantern-lit Turnip Tent, named for the family's proud farming heritage. 
Longish grass and wildflowers tickle the walls of the yurts, inside of which is effortlessly stylish. There are no boho drapes and rugs, instead it has a kind of modern rusticity with wooden floors, leather chairs and wood-burn
ing stoves. Outside there's a barbecue, fire pit and acres of car-free space. 
You're never far from what you need at Headland Escape. If it takes you more than five minutes to walk to the characterful village pub then your dawdling. The beach is no more than a 10-minute stroll and, thanks to a luxury spa resort a few hundred yards away, you'll also find a top Italian restaurant, tennis courts and a menu of massage treatments on your doorstep. So, if you've come by car don't expect to use it much. You may well drive it here but chances are you won't be leaving in a hurry.
Each yurt has its own private shower and bathroom facilities, while, inside, they feature kind-sized beds and wood-burning stoves. Kitchen huts and picnic tables help you cook and dine al fresco (if you're not eating at Waves Restaurant next door) and there's ample space to call your own outside each yurt. 
And a farm with glamping at one end and a campsite in a field at the other is...
Don't expect a big sign directing you to the T Barn shepherd's huts or campsite. Instead, you receive detailed instructions from your host, Eloise, which help you navigate from the honey-stoned pub in the village down hedgerowed country lanes to the right field on the right farm.
Shepherd's hut guests go one way, campers and bell tenters another. There's a meadow for each at opposite ends of the 850-acre dairy farm the site calls home. The idea to keep them separate is a good one; preserving both seclusion for the adults-only shepherd's huts and the sociable feel of the family-friendly campsite. 
If you're coming with kids, there's horse riding and cycling, and South Cerney Lake where you can sail, kayak or paddleboard until it's time for your next campfire.
For more ideas on where to unroll your Bundle Bed, take a look at our Best Campsites in the South West, or some more ideas from Cool Camping from Summer 2020.
Author Lucy Bartlett is the owner of Bundle Beds.

A Bundle Bed is a comfy and inviting roll up bed for your guests, as well as a practical, convenient solution for kids' sleepovers. It comes complete with a self-inflating mattress, pillow, warm duvet, and jersey cotton sheets, rolled up in a waterproof outer layer. If you need more luxury from a camping bed; or an all-in-one bed for the kids when travelling; or a hassle-free spare bed; you only need a Bundle Bed!